I am happy to tell you that I am now a Facebook employee!
A bit of history
Two years ago, like many of you, I applied to Google (thanks tsuna). Obviously I didn't get in. I did not even made it to the second interview! After analysis, I screwed up everything!
Spoken English is hard without training (I'm French). I struggled explaining simple things such as "What's the difference between Linked Lists and Arrays".
I did not have parallelism nor Java courses yet. Therefore the implementation of the classical producer & consumer problem was painful.
At the end, I had no questions to ask. It made me look not motivated.
I have been asked about my hardest to fix bug. This was the lethal question, I had just no idea what to answer!
Meanwhile
Soon after the interview, I read the excellent book What Would Google Do?. It talks about business models from the new internet companies such as Google, Facebook, CraigsList, Wikipedia ... There is one chapter about blogs that was a revelation.
When I applied to Google, the only thing they had on me was a resume with the name of various projects I've been working on. I find excessively hard to judge my skills based on my resume. This is where a blog comes in. A blog lets you show off your skills and interests without constraints from a resume.
Most of the articles fall into one of those three categories:
Projects I've worked on using videos, dozen-pages reports ...
In-depth explanation of specific techniques (that no one cares about).
Fun programming stuff I found.
It gives me the opportunity to show what I am interested in and concrete examples of what I am capable of. If you scroll over the many pages of my blog, you will have a much better vision of who I am than a resume.
Another try
And one more thing: A blog also makes you visible! I have been contacted by a Facebook employee after he saw my post JSPP - Morph C++ into Javascript on Hacker News! (Yeah I know, that's crazy!!!). Since I did not want to fail miserably again, I took some more serious preparation (thanks Xavier). Here is a summary of what made me ace the interviews.
Know the interview process. A typical 45 minutes interview goes like this:

Explain a project of your resume (10 minutes).
CS Puzzle (25 minutes)
Questions (10 minutes)

I completely failed my Google interview because I had no idea how interviews work. As you can see, half of the interview is not about Computer Science! So you have to prepare for it as-well. Prepare a speech for 2 or 3 projects from your resume that makes you shine for the position you apply for. Make a list of 15-20 questions and you should be good to go.

Train on CS problems. More than half of the recruitment process is about your Computer Science skills. However the process is flawed: it is mostly focused on solving puzzles. You can be a wonderful programmer that excels at making easy-to-use APIs and wonderful self-documented code but that skills will not be tested.

In order to train, the book Cracking the Coding Interview has 150 questions. The quality of individual questions and answers is not top notch, but it will give you a good insight of what will be asked. If you are done with it, you can get more on CareerCup.com.

Your interviewer should want to have a beer with you. This is probably the most helpful advice I have taken from the really good book The Google Resume. Your interviewer is going to be your co-worker right after you get hired, as a consequence, during your interview process, act like if it was a friend instead of it being a faceless institution.
Conclusion
All those adventures made me learn one thing. In order to get your dream job, you not only have to be a good programmer, you also have to learn how to sell yourself and have a good preparation for the extremely codified process that interviews are.
If you want to get a job at the Silicon Valley, I urge you to read the three books I referenced and start a blog right now. It is a long term investment that pays off!
Bonus
This is what I sent to accept the job offer :p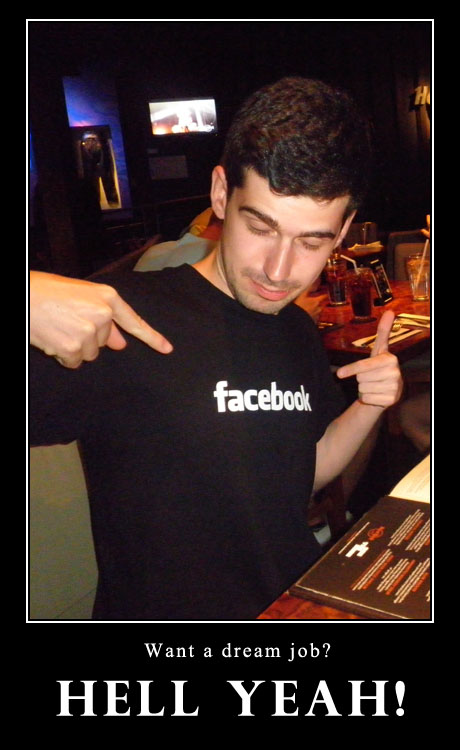 Twitter feed
as well.